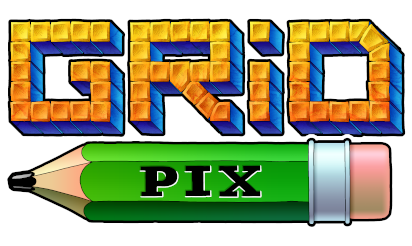 Grid Pix C64
A downloadable Commodore 64 game
"Grid Pix does stand out from the crowd." - 88% Retro Gamer magazine issue 198

"A splendid little Picross variant." - 82% ZZap! 64 Annual 2020
---
Grid Pix is a Picross/nonogram puzzle game for the Commodore 64, playable on real hardware or an emulator.
Reveal the picture hidden within each grid by using number clues to work out which pixels should be painted. An in-game tutorial allows you to get to grips with the basics in no time.
With 100 addictive puzzles of increasing difficulty to solve, Grid Pix puts your logic skills to the test and brings a totally unique gaming experience to the C64.
Features:
- 100 hand-crafted puzzles with unique solutions, solvable using logic alone
- Intuitive controls that make solving each puzzle satisfying and fun
- Select different tunes to suit your mood
- Play at your own pace or try to beat your previous time
- Designed and coded by a Picross addict/C64 veteran
- DLC packs, each featuring 100 new puzzles, will be available after launch
- Supports PAL and NTSC devices
---
Buy Grid Pix on Cartridge/Disk for your Commodore 64 Computer!
Enjoyed Grid Pix on your modern-day computer? Have an old Commodore 64 stashed away in the loft? Well, you'd be a fool not to grab a physical copy of the C64 version - it comes boxed with a vinyl sticker, badges, an A3 poster, full-colour manual, a puzzle design pad and even a postcard, just like in the good old days!

The game comes on a cartridge for instant loading and progress is saved automatically to the cartridge's RAM for your convenience.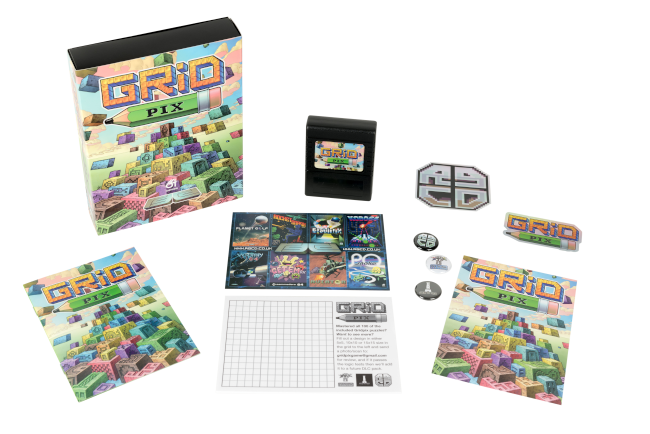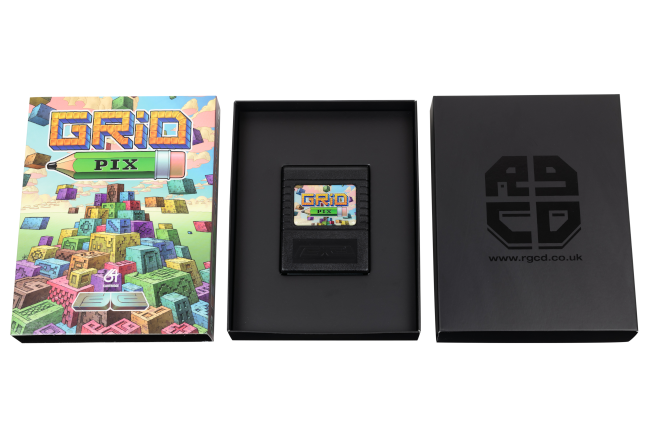 Head on over to RGCD's online store to order your copy today.
Grid Pix will also be available soon to order on 5.25" diskette from our friends at Psytronik Software.
---
Purchase
In order to download this Commodore 64 game you must purchase it at or above the minimum price of $3 USD. You will get access to the following files:
Comments
Log in with itch.io to leave a comment.
Loving the game. :-) Looking forward to dlc/more levels in the future
excellent game ---- stuck at lvl 25 lol ....
Another happy player here. Nicely executed and appropriately challenging, but not too frustrating. The last puzzles really made me think, especially the very last one (if I remember right, it took me 40-50 minutes). Also nice to know about the free Advent calendar version, now I know what I will be doing with my TheC64 Maxi when waiting for Christmas :-)

The only thing that I would change would be the length of the game (the 100 levels are solved faster than I thought), but this is not really an issue, as the game cleverly has support for DLC content.

One question regarding that: when and where there will be some available (besides the Advent version)? Also, what will it cost? I would love to solve some more, I think this concept works even better here than on the traditional pen-and-paper format!

Thank you for this game, it is well-done and entertaining! :-)

Thanks, really glad you liked the game. I'm still thinking about DLC. It'll be free when it is release.
Love the game. Loaded it up and instantly lost and hour and got to level 13 and definitely feeling getting progressively harder. Great stuff - strong recommend!
Thanks, I'm glad you're enjoying it. I wrote a solver on my PC which ensured all the puzzles are unique and work and at the same time it grades their difficulty. So there is a good learning curve I think.
Just for your own record, level 95 completely broke me! Took me 53 minutes to solve 😵‍💫
Ouch! I sometimes get stuck on the Switch version like that and it's usually something obvious.
How will the DLC work with the physical Cartridge version (which I'm tempted to buy)?
The DLC loads by pressing L on the title screen which will search for the correct file on a disk in drive 8. The cartridge will also auto-save your progress in a different slot on the cartridge so you can play both sets of levels together if required.
Great game! I'm ready for some DLC!!
Great game Carleton, I've never managed to get my head round picross before but your tutorial and intro levels got me to finally get it...thanks for the game I know I'm going to love it.
Thanks Stoic. Picross is a little confusing at first but great once it clicks. I'm glad GP could finally get you in to it. Great avatar as well, Bubble Bobble is one of the finest games ever.
An quite interesting game! I already very much enjoyed your brillant Millie Molly and Grid Pix is another very fine game for my "little grey cells". Works perfectly on Vice, but I'll enjoy it on my TheC64 Maxi this evening. :)

Thanks for supporting it. And thanks for the kind words. It is fun coding for the C64.
Two days later I have to add: Grid Pix is extremely addictive for me. And I think this game would be a perfect solo-boardgame. I'm actually pondering about making such an "offline version" with cardboard and wooden cubes. A wonderful game, very entertaining and there are always some minutes time to solve another puzzle! I look forward to the DLCs. :)

great to hear. You can buy paperback book versions of this style of puzzle. The one I had called it Hanse but it was the same idea.
Ah I see, nonograms they are called. I ordered a book. Grid Pix works flawlessly on my TheC64 Maxi by the way.