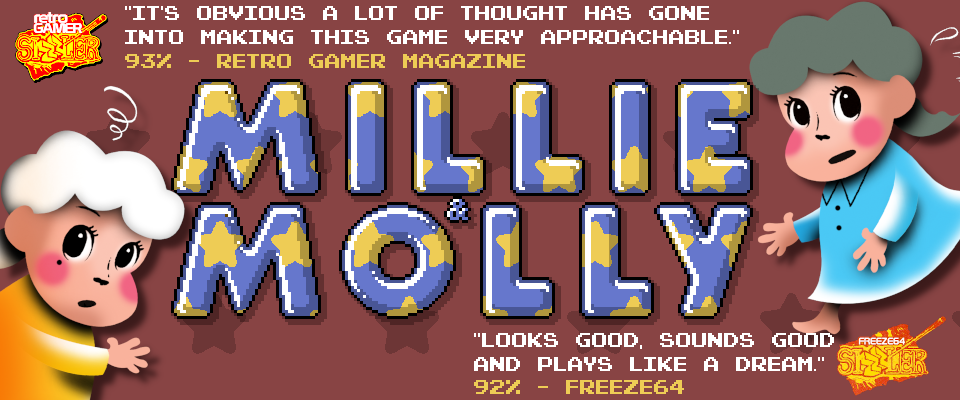 Millie and Molly (Windows)
A downloadable game for Windows
Millie and Molly is a puzzle platformer game that will put your logic to the test. Can you help the sisters climb, push and dig their way through 100 levels to defeat the malicious monsters?

Featuring retro-inspired graphics and music across five themed zones, Millie and Molly will take you on an adventure like no other. PLUS, with no life counters and no timers, you can test your wits with none of the stress. If you make a mistake, simply use the rewind feature to try something else!
Simple gameplay combined with ingenious level design
Play at your own pace and with zero distractions
Choose between retro 8-bit and 16-bit graphics
Millie and Molly is an indie game developed by industry veterans. It was a huge hit when released for the Commodore 64 in 2020, so the developers knew they needed to bring the experience to Windows. DOWNLOAD NOW!
---
Reviews for the C64 version:
"It is obvious that a lot of thought has gone into making this game very approachable." - Retro Gamer
"If you enjoy puzzle games then this is the game for you." - Retro Video Gamer
"It becomes incredibly challenging and *a lot* of fun." - FREEZE64
"Millie and Molly is beautiful because it is an unhurried, engaging but also relaxing game." - (translated) The Games Machine
---

Credits
Level design: Chun Wah Kong, Patsy Chim
Graphics: Saul Cross
Music: Hans Axelsson-Svala
Requires Windows 64-bit
Purchase
In order to download this game you must purchase it at or above the minimum price of $3 USD. You will get access to the following files:
MillieAndMolly Installer.exe
27 MB
Also available on
Comments
Log in with itch.io to leave a comment.
Great puzzler, Well done. Bought and enjoying it.
One question: what is the key for quitting the game (pc version)?
Just realised there isn't one sorry! That's what I get for working in smartphone games for years. I'll add one in.
Why is the Android version more money than the iOS version?
It isn't as far as I know. £2.99 each in the UK. Perhaps the stores have a different exchange rate elsewhere.
I live in the U.S. The iOS is $ 2.99 and the Google Play is $ 3.99.
Well it's "Tier 3" on iOS and they're set by Apple. I put £3 on the Play Store and I guess Google did a more accurate conversion as that's closer to $4
Does the Android version have an editor? The fun part of Catrap was the ability to create your own levels.
Congrats Carleton - looks great 👏👏👏
Does the Windows version also have a level editor like the Commodore 64?
No sorry, I'm thinking of adding one but need a suitable way to share between users.
You might consider releasing Millie & Molly on Steam. They have a Steam Workshop for sharing levels. Then provide a Steam key for those who purchased your game here.
Save / Load from file ? Or just with copy / paste text ( with encoded lvl info ) ? :D
I want to be able to share over multiple formats though. So copy and paste text is probably the best idea. I never heard of one person using the editor on the C64 version though so it wasn't a priority here.
Oh i see, portability... Then it might be difficult, depends how much info you need to store per lvl :D
Any level could fit in a max 44 character string. So that's OK to cut and paste on a PC or a phone but more problematic if it goes to console say.
Reminds me a lot of the Gameboy game "Catrap" or "Pitman". Do you know when the Android version will be released?